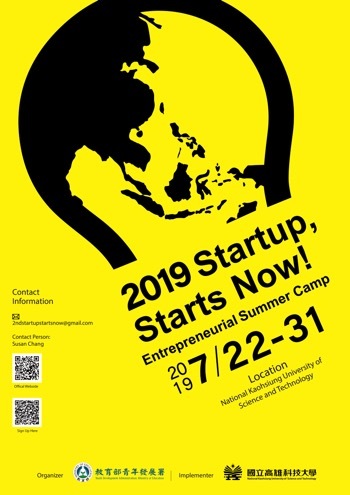 最新公告 Latest News
【2019 Startup, Starts Now!Entrepreneurial Summer Camp青年新創交流營隊 開始報名啦!】
走過路過千萬別錯過!
Don't you ever miss this wonderful camp!
Don't hesitate! Come and register now!
---
關於活動 About the camp
歡迎新南向國家優秀青年學生來台,與台灣青年進行創新創業跨國交流,營隊結合經驗豐富的輔導團隊,並規劃一系列精實創業研習課程,提供大專校院青年國際交流機會,並激發跨國界之創新思維。
Entrepreneurial Summer Camp is expecting and welcoming outstanding talents in colleges and universities from new southbound countries to Taiwan to interchange innovative business ideas with local Taiwanese students. The camp has an excellent faculty team who has been vigorously working on planning workshops and camps of innovation with a series of professional courses to inspire college youths on creating their own business.
營隊期間,將引導團隊進行設計思考原型實作,將學習成果轉化為商業計畫,於天使投資交流會進行簡報,學生除有機會取得天使投資人資金,能在營隊後實踐創業,更有機會進駐高科大創夢工場創培空間、接受業界導師及專業經理輔導等資源。
The learning outcomes will not only be fostered into a business plan by making a prototype, but also the students in the camp might possibly get their first domestic fundraising while briefing to those angel investors, which will help to realize their entrepreneurship. Also, they will also be able to use the Fi-Lab on NKUST Diyi Campus where the students can receive more practical suggestions and counseling service by mentors and project managers
只要上傳1~3分鐘的影片,用英文介紹你自己和你的創業想法,就有機會於在學期間完成創業夢想!
Besides filling out the application forms and agreements below, please upload a short clip about your self-introduction and business ideas in English within 1-3 minutes.
Activity Highlights of the camp in 2018:
---
重要日程 Important Dates
截止日期
Deadline Countdown
2019. 05. 13
錄取通知
Result Announcement
2019. 05
營隊日期
Camp
2019. 07. 22
│
2019. 07. 31
---
申請前請看這裡 Before Application
---
注意事項 Notice
完成線上報名,並上傳下列檔案
Upload the following documents in the google sheet.
參加聲明書 (附件一,需簽字掃描)
法定代理人同意書(未成年須填) (附件二,需簽字掃描)
學生證 (掃描檔)
Declaration Form (Appendix I, scan with signature)
Declaration of Consent from legal representative (For under 18 years old applicant) (Appendix II, scan with signature)
Student ID (Scan)
期限Deadline: 2019/05/13
臺灣時間108 年5月13日(一)截止
※ 未於時間內完成報名及上傳資料者,視同放棄資格。
Click to Apply